Those of you who play our puzzles may already know of "asmit" as the name at the top of many of our leader boards. Asmit, real name Arian Smit, clearly knows a thing or two about Scrabble, and he's been investigating a question for us that many players have pondered: "What is the highest possible scoring Scrabble move?"
What follows is Arian's findings, and how in a single move you can score a whopping 2044 points!
In the "Atlantic Monthly" of June 1987 Barry Chamish wrote an article "Masters of the Tile". He mentioned that 'The Scrabble Players News in 1982 asked its readers to find the highest possible score for one turn using words that appear in the OSPD. All across America players worked on the problem' and came up with a high score of 613 points. Somehow no player had considered using the triple-triple-triple word score! One reader responded to Barry a few weeks later that with the word "sesquioxidizing", and a bit of luck, you could score around 1960 points. According to Wikipedia, Gyles Brandreth's 1984 book "The Scrabble Omnibus" reports this word already, and may have been the source of this reader's response.
Barry's article and its reader responses set me off to find a 2004 point play with "sesquioxidizing". This was some time ago, and with the availability of downloadable word lists, this job is now much easier.
Googling for high scrabble scores, you'll find many links to fun-with-words, which contains a 1962 point theoretical play credited to the New Zealand top Scrabble player Jeff Grant. It uses no fewer than 11 words neither in SOWPODS, nor the Oxford English Dictionary, nor at onelook.com. The main word "benzoxycamphor" used in this solution doesn't make sense as a chemical and may be "benzyloxycamphor" misspelled. The highest score they report using only words found in the massive SOWPODS word list is 1682 points. A far more serious attempt can be found here, which reports 1778 points for the word "oxyphenbutazone" using the smaller American Scrabble dictionary (TWL06) only.
Using only words from TWL06 and only possible though unlikely moves for the entire game, I found a 1780 points play with the rack ABEOPXZ to make oxyphenbutazone: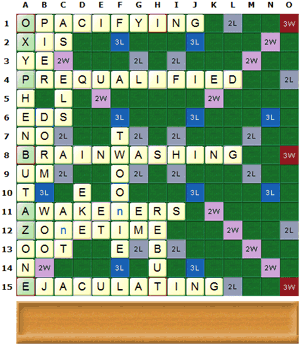 1780 points with TWL words only
Just 2 points higher than the previous record, but hey. With the SOWPODS dictionary there are several ways to reach a somewhat disappointing 1785 points with the same rack, including: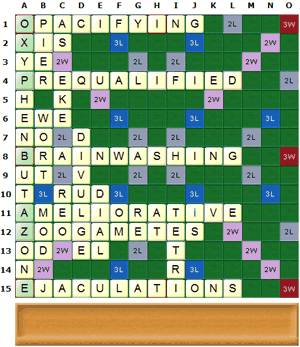 1785 points with SOWPODS words only
and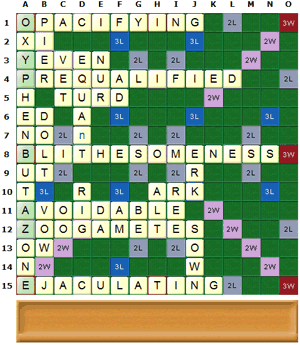 Another 1785 points with SOWPODS words only
Sesquioxidizing is not in any official scrabble dictionary, but should be, even if only for its magically positioned q, x and z. The word lives on the web, it can be found in "The Archive of Endangered, Special, or Fun Words", with the text: 'the word is derived from the word "sesquioxide", and thus not found in the dictionary directly'.
Using sesquioxidizing and otherwise TWL06 words only, on a day that things go your way and with the rack DGIQSXZ one can get 2015 points: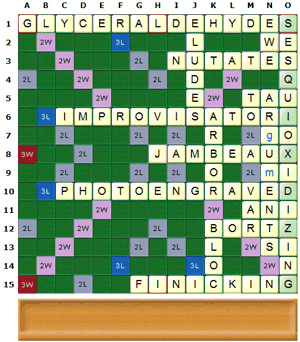 2015 point move with TWL and sesquioxidizing
This time, the bigger SOWPODS dictionary makes a difference. Words like 'jabberwock(s)', 'talaq', 'leylandi(i)', 'highfaluting' and 'acidulent', none of which are in the TWL06, allow a 2044 points move with the rack DGQSZXI: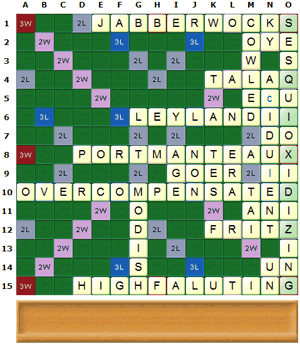 2044 point move using SOWPODS and sesquioxidizing
sesquioxidizing
27x62 =
1674
jabberwocks
3x31 =
93
talaq
=
24
leylandii
=
13
portmanteaux
3x23 =
69
overcompensated
=
25
fritz
=
27
highfaluting
3x23 =
69
7-letter bonus
=
50
____
Total
2044
Quite possibly some of these above records can still be improved. There are unconfirmed reports that a 2069 point play was found in 1982 by Josepha Heifez Byrne using sesquioxidizing. Can anyone find better?