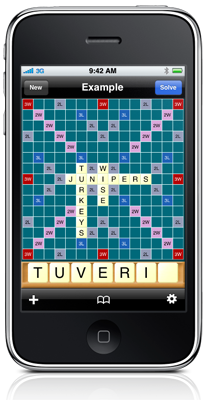 It's taken a long time, but we finally have version 1.0.0 of Scrabulizer for the iPhone released. It was accepted by Apple last night and is available right now!
We made the decision to cut back on some of the features in this preliminary version. The idea is to get a really good application delivered now, rather than keep you waiting for the bells and whistles, which we can roll-out later. For this reason, some of the features we've mentioned before, such as optical recognition, aren't enabled as they're just not quite polished enough. We will continue to develop these additional features, and as usual, keep an eye on the twitter feed for more up to date info.
We hope you like it!